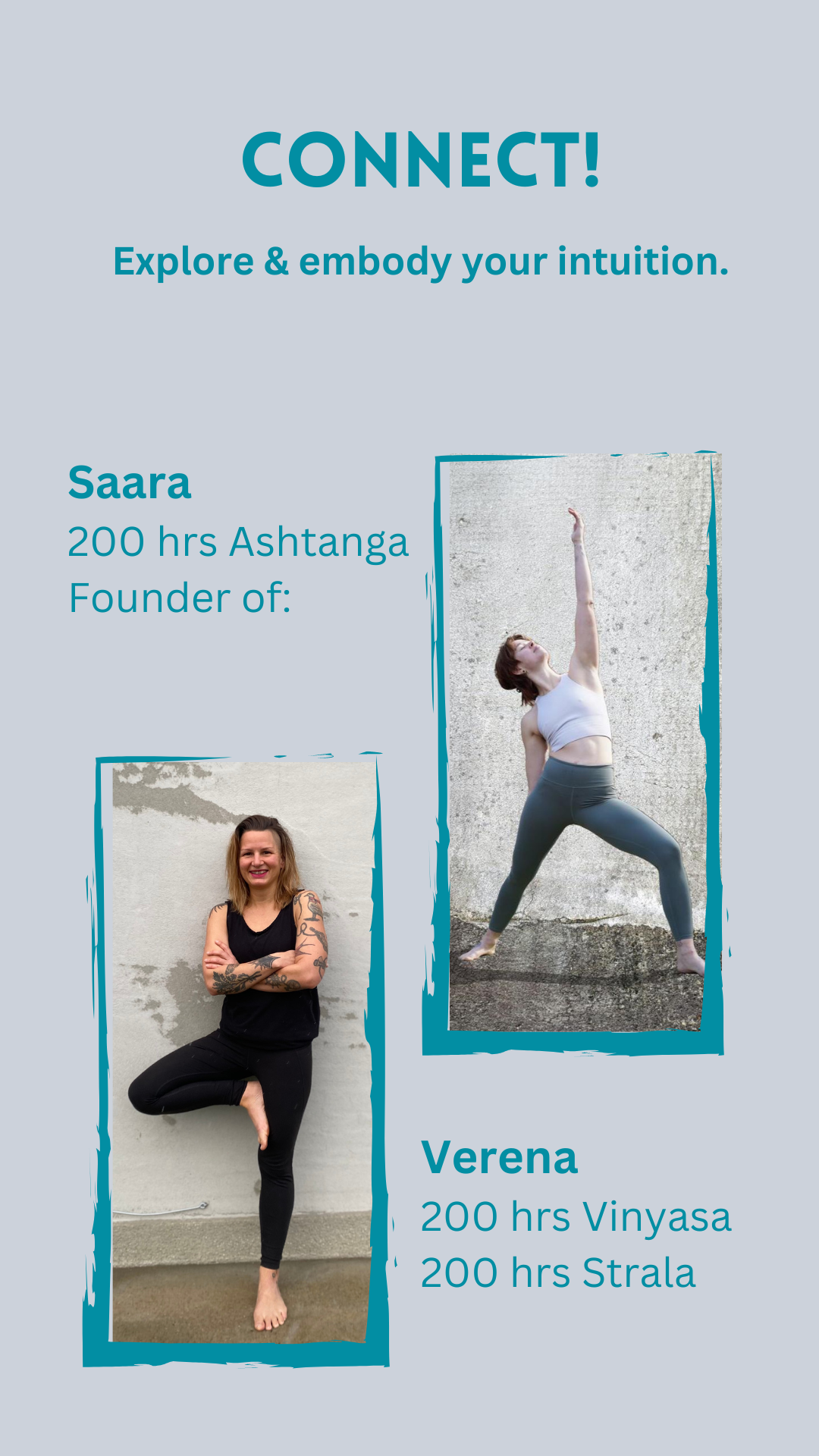 CONNECT!
Sat 20th, Sun 21st May 
Sunday 7th of May 11:00-13:30
Day 1 – Learn to connect to your intuition on a physical level and how you can integrate it into your yoga and general movement practice. You will explore your intuition with a yoga flow practice. Afterwards you will dive deeper learning, which body parts are mainly embodying your intuition and how to read your signals. 
Look forward to a day sparking your body and brain connection with different exercises, exciting exchange in the group and a little yummy lunch treat
Day 2 – Learn to connect to your intuition on an emotional level and to connect to your emotional body. You will dive deeper into exploring and embodying your intuition with a gentle flow and meditation practice. Afterwards you will learn what is behind the famous "gut feeling" and how you can use it as a powerful guide in your life.
Look forward to a day of feeling and trusting your intuition with gentle exercises, philosophical exchange in the group and a magical cacao lunch treat.
Booking:
CONNECT! – your physical & emotional body: € 75/ 70, small lunch treat incl.
The workshop days can be booked separately, yet we highly recommend joining both days to enjoy the full effect of it.
Sat, 20.05. – CONNECT! – focus on the physical body: € 45/ € 40, small lunch treat incl.
Sun, 21.05 – CONNECT! – focus on the emotional body: € 45/ € 40, small lunch treat incl.
3rd version coming up later this spring..
This is the time to discover and expand your SELF-LOVE and connect with your SEXUALITY. We will:
🔥 Have inspiring talks
🔥 Explore what empowers you
🔥 Connect with ourselves on a deeper level
🔥 Have delicious vegan snacks and tea
🔥 Find and enlighten your inner divine goddess and more!
Are you ready to empower yourself? Maybe you are on the path of self discovery or perhaps you are curious to unlock your own divine potential but aren't sure how to. Come as you are and let us guide you
💗 Saara and Nadia
We offer workshops throughout the year to help deepen your practice and explore new areas of yoga. Our workshops are led by experienced teachers and cover a range of topics, from inversions and arm balances to mindfulness, meditation and empowerment. 
They provide a unique opportunity to learn from expert teachers, connect with other yogis, and take your practice to the next level.
Please note that spaces are limited and workshops fill up quickly, so we encourage you to sign up in advance.
We also offer special workshops and events on some occasions, so be sure to check our website regularly for updates and new offerings.
We look forward to sharing the transformative power of yoga with you at Alysa Yoga in Maastricht.
A dynamic and physically demanding style of yoga.
A yoga flow that focuses on postures that involve arching the spine backwards
A style of yoga that emphasizes movement and flow.
A calmer form of yoga, which incorporates principles of Traditional Chinese Medicine.